Dermal Fillers
LINES. EXPRESSIONS. FURROWS.
Dermal fillers are injectable compounds that combine with the natural proteins and hormones in your skin to minimize fine lines and wrinkles, and improve the appearance of scars by restoring the skin's natural elasticity. Unlike neurotoxins -which uses a paralytic to smooth out the skin, Dermal Fillers work from within the skin, triggering your body's own production of collagen and elastin to fill in lines and scars with new, healthy skin.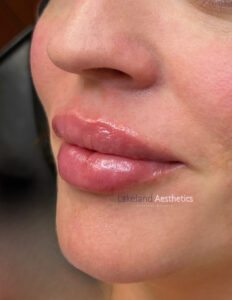 Have you been considering dermal filler for your lips, cheeks, or under eye area?  If so, you have a new option to consider! VERSA™, manufactured by the company Revanesse®, is a hyaluronic acid (HA) dermal filler developed to smooth fine lines and wrinkles and enhance facial volume. HA is a naturally occurring substance found in the body. Although VERSA is comparable to other HA fillers like Restylane® and Juvederm®, there are some characteristics that make it unique:
Used for over four years in Canada (where it is also manufactured), VERSA received its FDA approval for use in the United States in 2017.
VERSA contains NO animal product, nor any animal by-products.
Over four million syringes of VERSA have been used worldwide with no reports of adverse events reported.
VERSA has been shown to produce 24% less swelling than competing fillers and most clients have almost no swelling.
On a molecular level, VERSA has a tiny, spherical particle structure which gives it a very smooth quality which yields very natural looking results. VERSA is manufactured with premium quality hyaluronic acid and has a higher molecular weight than other HA fillers which may result in longer-lasting results.
VERSA is less hydrophilic than most other fillers which means is has a less affinity for water molecules and therefore less migration.
VERSA is a biodegradable formula which your body breaks down naturally. It is manufactured in very small batches with very stringent quality standards.  Each syringe of VERSA is carefully inspected in a state-of-the-art North American facility.
VERSA can be injected in the Lips, Nasolabial Folds, Tear Troughs, Cheeks and other areas.
Are there any reasons why I should not (contraindications) receive the Revanesse Versa injection?
You should not be treated with Revanesse Versa if you:
Are pregnant or breastfeeding
Have allergic history including;
severe allergic reactions (anaphylaxis), heightened immune responses to common allergens especially inhaled allergens and food allergens (atopy), allergy to natural rubber latex,
allergy to hyaluronic acid products.
Have an acute/active or chronic skin disease, such as seborrheic dermatitis or rosacea in or near the injection sites, or any infection or unhealed wound of the face.
Are under concomitant anticoagulant therapy, antiplatelet therapy, or have a history of bleeding disorders, clotting disorders such as hemophilia or connective tissue disorders such as systemic lupus erythematosus
You should never use Revanesse Versa in conjunction with a laser, intense pulsed light, chemical peeling or dermabrasion treatments, within 4 weeks (28 days) prior to treatment.
Are under 22 years of age.
Results are everything!
The effect from using these fillers is immediate. Upon injection, the compound smoothes out the flaws in your skin as soon as it settles. It binds with proteins as the collagen and elastin begin working, restoring elasticity and creating new skin cells to fill in the target area. As the compounds are absorbed, their effect lessens but your skin will still retain its effects.
Let our expert injector who has trained with world renowned physicians and taken part in upper level cadaver classes enhance your natural, youthful beauty!